---
What do you need for Travel around the world?
1. Money, one year of very economy travel around the world is about 10 tousand euro
2. Time and no responsabilities
3. Backpack , I use the deuter aircontact 75litres is very good
4. Sleeping bag, I use winter sleeping bag brand Mountain Equipment Everest for all seasons
5. Vaccination is very very important as well
6. Travel insurence, better if you pay good one
7. Winter jacket gore tex, trousers gore tex, shoes gore tex, sandals, normal trousers-jeans/military, short trousers, Windstopper jacket, windstopper hut, windstopper gloves, simple scarf,swim suite, 7 t-shirts, 7 underwear-boxer, towel, 2money belt one of them just with money for 2-3 days other well hidden with passport and IDs and debit card, 5 socks, head light- petzl, mobile phone- better with wifi, but cheap, camera - I have canon EOS 50D and one compact canon, little backpack 15-25 lit, Little atlas of the world, sun glasses, sun cream, first aid- buy in farmacy basicly is completed, knife-leatherman surge.
8. Wash back - razor blades, deodorant, antibacterial soup, shampoo, shaving gel,dental floss, teeth brush, good teeth past with extra flour, scissors, aftershave cream, toothpicks,..
9. Smartphone is may be better than notebook, is smaller, lighter you can hide it and it does same job as notebook(calls,internet,data connection,plenty of usefull apps,gameing,movies,music)
I have Samsung Galaxy Note 3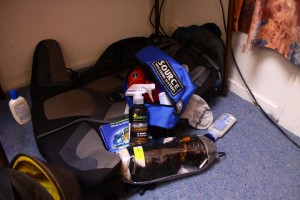 1